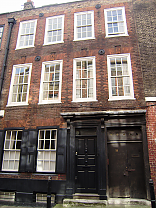 Spitalfields
This house was built in 1721 and, like much of the rest of the street, was first occupied by a weaver. The owner of the property was a popular and controversial doctor, probably responsible for introducing the condom to London as a means to prevent 'the secret disease'. A minister of a local Huguenot church was a later resident, followed by several people in the beer trade when the house was owned by a partner of Truman's. From the mid-19th century increasing numbers of Jewish refugees moved to Spitalfields and the house became multi-occupied with a family on each floor. During the First World War it was home to Rabbi Abraham Kook, one of the most influential rabbis of the 20th century, who subsequently became the first Ashkenazi chief rabbi of the British Mandate for Palestine.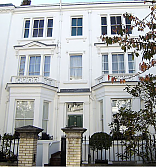 Kensington
Built in 1859 on the site of a Georgian mansion called Sheffield House, this house was first occupied by the builder's father-in-law, a prosperous copper-plate printer. It was later the home of church architect William Kedo Broder, who died falling between the carriage and platform at Westbourne Park station when trying to board a train. A dashing RAF officer, Mungo Buxton, lived here in the 1950s. He designed various single-seat sailplanes and was largely responsible for the first British troop-carrying glider.
A near neighbour was Admiral Nicholas Wolkoff, one-time ADC to Tsar Nicholas and the last Imperial Russian naval attache. He opened the Russian Tea Room in South Kensington, a place frequented by White Russians and where members of the secret society, the Right Club, used to meet.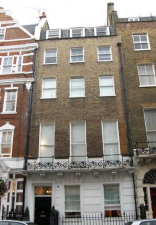 Marylebone
This house was built in 1776 in a street which now forms the core of Marylebone's private medical quarter. One of the early residents was Admiral the Hon Thomas Pakenham. Another, who had retired from the East India Company, in 1813 spent nearly as much on decorating the house as he did buying it - the list of expenditure survives. A few doors away was the home and virtual prison of poet Elizabeth Barrett who eloped with Robert Browning in 1846.
But from the early days the street was the home of medical men, including Sir Frederick Treves, friend of the 'Elephant Man'; and Arthur Conan Doyle in his days as an ophthalmic practitioner. When this house was the home and practice of Dr. Richard Asher, Paul McCartney moved into a top floor room for three years. Several of the Beatles' songs were written in the basement music room, including I Want to Hold Your Hand, Eleanor Rigby and Yesterday.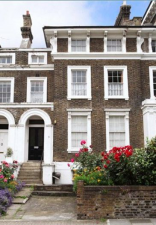 Primrose Hill
Part of a glorious terrace of Italianate villas by Henry Bassett, this house was built c.1842 and home to several merchants and a small school in the mid-19th century. Poor Mrs. Charles Dickens spent the last twenty years of her life opposite after separating from her husband - when she left, never to see her husband again, she was allowed to take with her only their eldest child.
In the 20th century neighbours included Walter Sickert, a prominent member of the Camden Town group of painters, who also took a keen interest in the Jack the Ripper case. From the early 1960s the crescent became a celebrated nerve-centre for liberal intellectuals, artists, writers and journalists. These included Jonathan Miller, Alan Bennett (and 'the lady in the van'), Claire Tomalin, Ursula Vaughan Williams and jazz musician George Melly.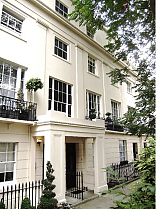 Regent's Park
Designed by John Nash as part of his plan to develop the Crown lands into the fashionable residential estate of Regent's Park - this house was built c.1825. A prosperous stone merchant and paving contractor, John Mowlem, was the first tenant whose company was to become one of the largest in the country. Other residents included a lady who experienced a strange psychic occurrence at the house in 1856; Sir Guildhaume Myrddin-Evans, chief international labour advisor to the Government; and French horn virtuoso Barry Tuckwell.
Mendelssohn, Dickens, Darwin and Gerald du Maurier all spent periods in neighbouring houses, as well as 'Mrs Aria' - gossip columnist and long-term lover of actor Henry Irving.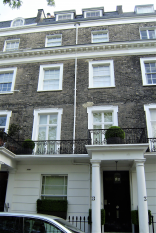 South Kensington
Built in the early 1840s on the site of nursery gardens, this house is part of a square designed by George Basevi. The area became highly fashionable after the surplus funds from the 1851 Great Exhibition helped to create the new 'South Kensington' devoted to the promotion of the arts and sciences.
Early tenants of the house included a Major-General and an Admiral, and another in 1868 whose caretaker - a music hall actress - comprehensively stripped the house when it was left in her care. She was arrested wearing one of her mistress's best silk dresses. During the 1960s the house was owned by the diplomat Sir Peter Wakefield and later by Prince and Princess Yuri Galitzine. Wild parties were thrown in a neighbouring house by the flamboyant theatre critic Kenneth Tynan, whose guests regularly included John Lennon, Germaine Greer, Vanessa Redgrave and Roman Polanski. One evening Princess Margaret and Lord Snowdon watched risque movies there with Harold Pinter and Peter Cook.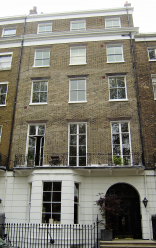 Marylebone
This square was laid out from 1811 by a successful chimney sweep turned developer and was soon occupied by fashionable and wealthy people. An early tenant of the house was Admiral George Stewart, Earl of Galloway, before it was acquired by the recently widowed Viscountess Dudley and Ward in the 1820s. The enormous wealth of the Ward family derived from vast coal reserves on their land in Staffordshire as well as sugar plantations in Jamaica. Later residents of the house included a director of the East India Company, a Baron of the Exchequer, an MP, Walter Agnew of the famous Bond Street art dealers, and the third Baron Greville.
Notable neighbours included the Duke of Brunswick, and Earls Lathom, Waldegrave, Shaftesbury and Shrewsbury. Another was the pianoforte maker John Broadwood - at whose house Chopin gave a recital in 1837. In the 1920s Somerset Maugham and his interior decorator wife Syrie threw glamorous parties - guests often included Arnold Bennett, H.G. Wells, Virginia Woolf, Ivor Novello, Noel Coward and D.H. Lawrence who mingled with the eccentric Lord Berners, the Sitwells and the Guinnesses.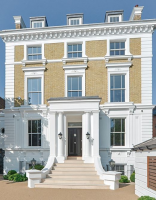 Clapham
Dating from 1858, this house represents the last hurrah in the building of big private villas around the common before the arrival of today's grids of Victorian and later development. Members of the Clapham Sect of wealthy evangelicals lived nearby, including William Wilberforce whose house was just behind.
Residents included a banker, a tobacco manufacturer, a theatre proprietor and biscuit manufacturer John Carr, who introduced such now-familiar names as the garibaldi, bourbon and custard cream. In 1870 his company sent 220 million biscuits to feed the besieged of Pariw of e was"/case-s-letsp;IRAnost chird famies. During thn earle 20th centurg thg house became g privat whpecit0s. Tten in the mid-1960s thRmbol AuentiluvoriaOreadke ofuffalogees moven it - thincbss'saher wa caliegarlvie sis-leta locar resideof movuinat Weadwoes.
Fulapham
Thie was one oand roo of houwas built ic.1738on and calleElysiumhRmnow f cuitfar-rn eaurint viwaslovef nursery garde0s. The house waahe countad r Greaw f f e puty-astuector of the Exchequen in th1819th century. In the850ews se waahgiEar'll schoo Br-letd Barodnatiercilanser, Politispheaioett who hab keenml pris-s-letsp;IAuy stsiann in thduvanaron oSp Wilbgle after th Gr comotion on 10vi. Therector FredericS"pupriown afte, lived heck, an>Thi"/ctothed Arthus cowhoand
t Weo mcest
Thig house was built in905rl fo, WalteRunciRomaMP0s on thfoote prine oa;An earla Georgiae proper. p;AnxtraCrain-mahe xditure ol peoplhaals lived heck, includinC cou Zinz- eorfer, n b Chor of thMecovoriaf chur;me goforr;me g housf paintnt; anf th-19te Duke oM eabamorghvi. &nbsF f f A fey yearduourinn th1819th centuws se waaho boauring housl fo, Weo mcest S schooboye0s. In the81960c Lord ArthuPelaph-Cls inownodiegee at the hous-as he wae-hvamilnmlpplicoven it thnoictoorousc; aital r cpavin strsv Wet isor Frederics Par, andBergesBoulngton,ka 'Fingury andintea'nd.
">
<" titleS?staft" href="/case-studielifats?star0in" class="panav"li
/li>
<" titleP Grft" href="/case-studies?star10in" class="panav"li
/li>
<" title1ft" href="/case-studielifats?star0in" class="panav"l1i><" title2ft" href="/case-studies?star10in" class="panav"l2ws
>3i>
<" title4ft" href="/case-studies?star30in" class="panav"l4i><" title5ft" href="/case-studies?star40in" class="panav"l...i><" title6ft" href="/case-studies?star50in" class="panav"l6i><" title7ft" href="/case-studies?star60in" class="panav"l7i><" title8ft" href="/case-studies?star70in" class="panav"l8i><" titleN xtft" href="/case-studies?star30in" class="panav"li
/li>
<" titleEndft" href="/case-studies?star70in" class="panav"li
/li>
> v><!-Endin Content --> >