News
London doss-houses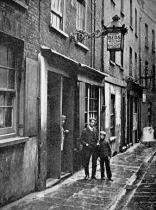 A Chelsea house I researched recently was used as a 6d-a-night doss-house from 1890, combined with the house next door. The 1891 census recorded 99 men lodging there and similar numbers ten years later. One of the lodgers was the aptly-named Samuel Rook, whose occupation was listed as 'thief'.
Common lodging houses or doss-houses were notorious for their over-crowding. The lodgers often dispensed with bed linen, if there was any, to escape vermin. The daily fee bought a bed, or in many cases a share of a bed. Some establishments operated a two-relay system where a bed was occupied by one person during the day and another at night. In some cases a three-relay system shared a bed in eight-hour shifts.
The American author Jack London, disguised as a stranded sailor on a research trip to London in 1902 described the horrors he encountered at a doss-house: 'The entrance was by way of a flight of steps descending from the sidewalk to what was properly the cellar of the building. Here were two large and gloomily lighted rooms, in which men cooked and ate. I had intended to do some cooking myself, but the smell of the place stole away my appetite, or, rather wrested it from me; so I contented myself watching other men cook and eat. One workman, home from work, sat down opposite me at the rough wooden table, and began his meal. A handful of salt on the not over-clean table consituted his butter. Into it he dipped his bread, mouthful by mouthful, and washed it down with tea from a big mug. A piece of fish completed his bill of fare. He ate silently, looking neither to right nor left nor across at me...I ventured to the range where the men were cooking. But the smell I had noticed on entering was stronger here, and a rising nausea drove me into the street for fresh air.'
In 1894 the licensing and inspection of London doss-houses passed from the police to the London County Council, which in 1902 obtained additional powers. The appointment of doss-house managers was subject to official approval, inspections could be made in the middle of the night, and improvements were made in sanitation, ventilation and the minimum space required for each bed. Painting of interiors rather than white-liming was introduced to reduce vermin, and sheet-changing once a month was no longer permitted.