News
Fanny and Stella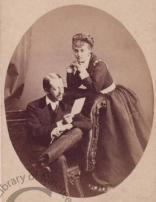 In the 1860s Lord Arthur Pelham-Clinton lodged at a house I researched in Westminster. He was a son of the Duke of Newcastle, godson to the Prime Minister William Gladstone and MP for Newark. He was in his late twenties, slightly built and inclined to stoop. The top of his head was already bald as an egg, a fact he disguised by a comb-over, plastered with hair oil.
Pelham-Clinton was declared bankrupt on 12 November 1868 with debts and liabilities of £70,000 (about £5.68 million today), and stood down as an MP. Bankruptcy was not the only notoriety attached to him. From 1867 he was associated with a transvestite, Ernest Boulton (aka Stella) who had dressed as a girl from a young age with the support of his mother. Boulton and Frederick Park 'Fanny' often appeared in public in female dress and on 28 April 1870 they were arrested and charged with 'conspiring and inciting persons to commit an unnatural offence' with Pelham-Clinton and others.
As the evidence unfolded, it was clear to everyone that Pelham-Clinton was heavily implicated. He had performed in public theatricals with Boulton and astonishingly had lived with him as man and wife. There were compromising letters, suggestive photographs and several sworn statements.
Pelham-Clinton officially died on 18 June 1870, the day after receiving his subpoena for the trial, ostensibly of scarlet fever but more probably a suicide. But at that time there was considerable speculation that he had used his powerful contacts to flee abroad. Boulton and Park were acquitted.