News
On the train to Delhi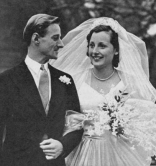 In Februrary 1948 the Hon. Wentworth and Sarah Beaumont had a grand society wedding, attended by the Queen and Princesses Elizabeth and Margaret, before moving into their new Chelsea home.
Wentworth Beaumont was still only 26 but had already lived an eventful life. During the Second World War he flew 71 Spitfire missions until, in 1942, he was shot down off the coast of Northern Holland, suffering a severe leg injury. He was captured and sent to Stalag Luft III in Silesia, the setting for what was to be immortalised in the cinema as The Great Escape. More than 80 Allied prisoners tunnelled their way out of the camp in March 1944, many to be murdered by the Gestapo after they were recaptured. Hampered by the after effects of his injury, Beaumont was not able to join the escape party. But he was a member of the map-making team.
On returning to service in 1946 he was appointed ADC to the Viceroy of India, serving first Lord Wavell and then Lord Mountbatten. In August 1947, with his fiancee Sarah, daughter of General Lord Ismay, Mountbatten's chief of staff, Beaumont accompanied the Viceregal party to Simla on holiday. The young couple then left by train to return to Delhi, before travelling back to England. According to Lord Ismay's vivid memoir: 'When they boarded the train, Wenty's Muslim servant showed signs of panic and was given permission to travel in their carriage. Nothing unusual happened until, at Sonepat station, about 20 miles from Delhi, a bomb was exploded on the platform. This was apparently the preconcerted signal for a general attack on all Muslim passengers. Men, women and children were pulled out of the train by their Hindu fellow travellers and butchered in the most brutal manner. At this point, Wenty hid the servant under the seat and piled suitcases in front of him. A little later, two well-dressed and seemingly well-educated Hindus presented themselves at the door of his carriage and demanded the right to search for a Muslim who was believed to be with them.
'Wenty indignantly refused, and the intruders took themselves off. Maybe they were impressed by Wenty's ADC armband, or by the two revolvers which he and Sarah were flourishing. The servant, who had fainted from fright and kept a deathly silence, was the only Muslim to arrive at Delhi.'